Rentals
The rental list is in Portable Document Format. To view or print the list you will need Adobe Reader, version 6.0 or better.

You can download a free copy of Adobe Reader by clicking on the icon below.
All rights reserved by Excel Property Management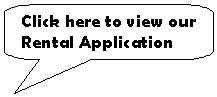 Excel Property Management provides housing to the general public without regard to race, color, national origin, religion, marital status, sex, creed or disability. Excel Property Management is a licensed Real Estate Broker in the State of California. We offer a wide variety of rental properties, everything from studio apartments to four bedroom houses. Our homes and apartments are located throughout Tulare County.


Processing an application normally takes 2-3 days. In some cases approval of the home owner or unforeseen circumstances may require some applications to take longer. Our Staff is committed in helping you from the application process to your future rental history with Excel Property Management. With the competitive rental market, our properties are renting fast. Following the steps below, will simplify your search, and increase the probability that you'll get the place you want.
• Check our list of available properties
• Drive by the ones that interest you the most
• No property will be leased unless seen inside
• Submit the completed application to view the property
• Pay the processing fee
• Security deposit will immediately due after being notified of approval.